Abstract
Dear Esteemed Readers,
I am thrilled and delighted to welcome you to the very first edition of our newly launched digital journal, the KLISC Journal of Information Science and Knowledge Management. On behalf of our Governing Board, it is my privilege to share this significant milestone with you.
The digital era has ushered in profound transformations in how knowledge is generated, shared, and consumed. In this ever-evolving information landscape, libraries play a pivotal role in facilitating access to scholarly research and KLISC is steadfast in its commitment to remaining at the forefront of these changes, embracing new opportunities, and making a meaningful impact on the information society, as outlined in our strategic plan and mission.
The launch of this online journal represents a noteworthy milestone for us, as it provides an innovative platform for the dissemination and exhibition of cutting-edge research from distinguished scholars worldwide. Our objective is to promote open access to high-quality, thought-provoking research, stimulate critical thinking, and contribute to the advancement of library science, information management, and knowledge studies.
I am profoundly grateful to our editorial team, a group of eminent experts in their respective domains, whose assiduous efforts have meticulously curated this inaugural issue. Through their dedication and collective expertise, they have assembled a selection of peer-reviewed articles that capture the diversity and depth of contemporary scholarship.
To all the authors whose work graces these pages, I extend my heartfelt gratitude. Your research, innovation, and intellectual curiosity are the driving forces behind the progress we make as a society. I firmly believe that KLISC JISKM will serve as a valuable platform for the global dissemination of your work, earning recognition for your scholarly accomplishments.
Lastly, I wish to express my sincere appreciation to our readers. Your passion for knowledge and thirst for inquiry are the engines propelling our shared quest for excellence. As readers, your support, feedback, and active involvement are pivotal to the success of KLISC JISKM.
Once again, I welcome each of you to this inaugural edition of our journal. I encourage you to delve into the fresh insights and ideas presented here and anticipate the profound impact it will undoubtedly have on the library community.
Warm regards,
Dr. Arnold Mwanzu
Chairperson, Kenya Libraries and Information Services Consortium (KLISC)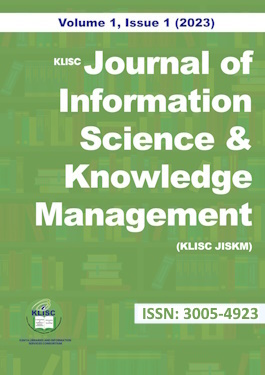 Downloads